Company History
Handmade in Hundon was established in 2001 and rebranded as Catering for Suffolk in June 2015
Sarah and William Barthorpe spent 15 years in the advertising industry eating in many of the finest restaurants in London and the Home Counties. Realising this was not where their passion laid (the advertising bit) they left to travel the world on an extensive culinary sabbatical to extend their knowledge of foods and ingredients from around the world that were increasingly  appearing on good restaurant menus.  Spending 4 months in India and Nepal, gave them a fantastic insight into real Indian food. Moving on to thailand  they attended the Wandee School of cookery in Bangkok for an intensive two week royal thai cuisine course and then lived on the islands for four months, shopping in local markets, experimenting and developing what they had been taught. Travelling on through the Far East and eventually to Sydney, they worked in Australian  restaurants whilst sampling some of the best in fusion food.
They returned in 1996 and  both trained at the Butlars wharf chef school (Conran)  in London,  intending to open a European/ Fusion  restaurant, getting to survey stage on several properties before a growing young family put that idea on the back burner. Still wanting to use their skills and experience they set up an innovative meal kit company selling kits containing all the fresh ingredients needed to make  fantastic authentic Thai curries. Interest from an up market supermarket needed substantial investment and without a long-term guarantee of orders the risk was deemed too much. Reluctantly the Thai meal kit business was closed and shortly afterwards the the catering company started to emerge when their solicitor convinced them to cater for his wedding. Since then they have diversified into all aspects of catering and as yet have still managed to avoid the dreaded Bain Marie buffets. Over the last five years they have developed a range of middle eastern recipes taking influence from amongst others Claudia Roden and Yotam Ottolenghi and Restaurant Moro having been amazed at the flavours in properly smoked food and are always looking for the next challenge to stretch their skills to your wants. The pictures below by Alison Mckenny .
New Experiences in 2017
See our blog for more recent food developments during the less busy time of year
November
We catered at a charity event at the Tudor barn in Milden for 140.  Lots of local people who present potential clients for us in the future.   I wanted to prove that we can cook tasty inexpensive food and plate serve for this many.  We cooked fresh on site  an Ottolenghi chicken dish with a  home make chicken stock  with sumac, lemon,  red onion and lots of spices Zaa'atar,  cinnamon  etc.  accompanied by peas with bacon and chilli and rosemary honeyed carrots.  To ensure quick service we had 15 staff, as speed of service was important to the client as they had gambling and dancing to do,   we  followed this with  Eaton mess,  the pavlovas were sticky gooey and crunchy and we just managed to get some good strawberries English raspberries and blueberries to accompany the coulis and cream. It all went smoothly and the clients loved it as it was different, tasty and accessible to all
October
Weekend  event at Cavendish hall  the client was  knowledgeable and an accomplished cook, celebrating a large  anniversary and wanted their food over three nights  to reflect their travels.  We cooked  an authentic  Thai meal  followed by an Indian meal the following night all from scratch using our own home made pastes  including the samosas and onion bargees,  fish cakes etc.  A superb aged sirloin on the bone for Sunday supper with Yorkshires and veg including "just cooked sprouts "  at the request of the client.  On site made profiteroles  with a hot chocolate sauce did not look  like the uniform frozen ones  many caterers   offer  but tasted fantastically fresh and luxurious.
Authentic Mexican Wedding food
Although having never been to South America, when we had an enquiry in 2016 from a couple who love Mexican food,   I was intrigued and did some research into guacamole and quesadillas and did a small tasting for an initial visit . The clients were really impressed with the taste I had achieved.  As with  most foods, Guacamole  is not as simple as chucking  avocados,  tomatoes,  chilli,   lime juice spring onions etc. in the blitzer.  Over  the next 9 months I trialled fajitas,  refried beans,  made my own corn tortillas, made Mexican coleslaw  and cooked Nachos.   It took us a couple of visits to DF Mexico and  Wahaca  in Shoreditch   to get the flavours right and the wedding itself was a real challenge, as we made lots of authentic dishes for 120 guests  all from scratch.  We served churros straight from the fryer as I was not interested in cooking them in advance and holding as they go soggy.  The clients were really pleased the testimonial will be in kind words soon
A weekend event at Ringshall grange.   A 70th birthday,  3 meals a day for 25 with   menus based on specific likes,  allergies  and dietary requirements alongside Vegans Pescatarians and Coeliacs.  I  made a   vegan chocolate sachoirette that you would never know was GF,  as well as a  vegan lasagne. A ham cooked on site with lots of Ottolenghi style salads (many are vegan or can be adjusted slightly)  was really appreciated.
September
A pizza event using the wood burning oven at Ringshall Grange.   I supplied my own oak to really get the temperature up, although  not our first time cooking  using a wood burning oven, always a new challenge with a different oven. Pizzas using our own dough made from 00 flour and a bit of strong white,   freshly made passatta and we used  finest buffalo mozzarella and lots of other toppings  made for some lovely pizzas served fresh from the oven.  We made 30 in about an hour to feed 18 hungry hens . A good experience that I will need to charge more for next time as it's a lot of work to make a great pizza.
Family celebration for 18. Ottolenghi meats and salads with  Torte au St Emillion and apple crumble using apples from the garden  and some hedge russets from the village was lovely. The new clients from London were surprised this sort of food is available "in the sticks" for their country retreat.
We were asked to organise some flowers for the tables and made contact with a new company http://mrspencers.flowers/      in Clare. Like good catering,  not cheap but beautiful
A 40th birthday party for client whose family we have  been cooking for  over 10 years A fantastic marquee was beautifully decorated perfect for a gin based party. We provided canapes and bowl food to standing guests. Lemon and Fennel marinated Salmon with a coriander cucumber and parsley salsa on a bed of paprika sweet potato chips was great and the
Soba noodles with aubergine and Mango   an extraordinary combination that we have not cooked for  a few years but always amazes guests who would not normally choose a dish like this. 30 different Gins was difficult to serve from the bar but we managed.
A couple of funerals which we can do at short notice mid week in the busy season. We take on as much as the client wants us to,  usually clients are distressed enough without having to worry about the detail that we can sort out,  as well as providing our regular  staff who are fantastic at providing the right sort of service: Discreet, helpful and courteous 
August Belchamp Hall Wedding  http://belchamphall.com/
A successful young couple wanted a wedding that was different to all the weddings they had been to recently.  We don't often work with very young couples as they normally are only interested in the party and the food is purely a necessity to cope with the alcohol. This couple had travelled a lot and had developed  palates, having   eaten in lots of great restaurants and knew they wanted: quality over style
Specific about the main course of slow cooked shoulder of lamb we built a menu around this. Canapes in including freshly cooked quails eggs scotch eggs (soft boiling and peeling 100 + quails eggs is dull but worth it)  A starter of home cured beetroot gravadlax with a horseradish and wasabi cream (Fresh home grown wasabi) with a roasted beetroot salad   to start with.  A mezze style main to accompany the lamb Tzatziki  roasted beetroot dip(they loved beetroot)  etc. with fried haloumi, rocket, toasted  walnut and pomegranate salad was colourful and tasty. Homemade Tarte aux citron to a roux brothers recipe was  lovely the pastry (Pate Sable) is incredibly delicate but freshly made is far superior  to a bought in dessert available from  many companies supplying  "reputable restaurants and caterers" who pass them off as their  own as they look great but taste ordinary as they  use inferior ingredients or additives to give their produce shelf life and colour.
July
A Grandmothers birthday celebration with lots of family:  I used to say I would never coronate a chicken but was asked to do the original recipe created by Rosemary Hume for the Coronation  and made popular by Constance Spry. I made courgette and local broad bean quiche as well as spinach and ricotta,  with lots of local strawberries for Pavlovas for dessert alongside sherry trifle. We don't do a lot of buffets but this seemed to work for an informal celebration with  a vast age range some vegetarians  and some picky children who could select only what they liked!
New venue Columbine Hall Stowupland
A new venue and a wedding couple  with Turkish  heritage on one side so very keen on authentic foods   www.columbinehall.co.uk   provided  a beautiful back drop although the kitchen was a lot smaller with 10 staff in it than I remembered from our site visit,  thankfully it was  a dry  day so we could cook outside. We provided a far too extensive fresh middle eastern influenced menu for the facilities.  Pastilla was new to us a Moroccan influenced filo wrapped chicken parcel served with cinnamon icing sugar absolutely delicious and I enjoyed researching and making that with so many different recipes available. Fatoush is an old favourite we have not produced for a few years so much is to do with  the slicing of the flat leaf which should only be sliced once and never processed. We worked with lots of authentic Turkish desserts supplied by the client originally to be accompanied by authentically made Turkish coffee but this proved impractical for the numbers.
2016
In February for a tasting we made bahn mi pork balls as a canapes,   and after discovering that most recipes  for Sirachi sauce had been Americanised  with native American chillies,   I found an original Vietnamese recipe  using birds eyes,  rather than jalapenos and the combination of that and pickled carrots was fantastic.
Chilean potato puffs, falafels with dried broad beans as well as chick peas,with a tahini sauce were fantastic
In February we trialled proper pulled pork, marinated,  slow cooked bone in neck end shoulder  smoked over charcoal for seven hours.
Although i have never drawn a lot of inspiration from  American food  they  have perfected slow smoking  and BBQ cooking.  Research led me to lots of different rubs,  brines etc.  I used a simple one of fresh fennel seeds salt and pepper.  When we cooked it again for Erin and Pete at Great Bardfield in Sptember  it was even better.
We have had some challenging brides this year: bubbling with ideas,  very knowledgeable   about food  due to eating in the finest restaurants in the country. It is sometimes difficult to hone down 50 yummy things they have tried over the last year.  We trialled miso aubergine,  crab mouse on artichoke leaves, making our own burrata ( in the end settling for a really good buffalo mozzarella nothing like the ones you get in supermarkets )  Char grilled peaches and speck salad only to be discarded for updated ideas.  I loved the challenge of these even if we did not use them in the end.
As well as knowledgeable brides, one of our hen night organisers was a food writer for one of the leading UK food magazines:  so no pressure then. Our sharing style food worked really well our home infused oils, Babaganoush, marinated piquillo peppers and olives along with Turkish marinated lamb and seasonal Yotam style salads were really well received. We have bought a good sized ice cream maker and it makes fantastic ice cream, so a raspberry ripple ice cream topping on a champagne rhubarb pavlova worked well. Very verbally appreciative but probably did not want to risk being quoted from a professional perspective.
In March we had a Gluten free hen   and it was her weekend so we went with a mainly GF menu which was lovely.  Having discovered Helmsley and Helmsley last year,  they replace the need for gluten,  rather than substituting it and making a poor copy of a gluten recipe. Pablo's chicken is fantastic and a pear and almond tart (might not be theirs) but  their  ideas gave me the confidence to make a fantastic gluten free  pear and almond upside down cake later in the year  with crisp pears from our own tree.
Working with guests who have food intolerances and allergies has become a large part of our service,  we have worked with brides who are coeliac, dairy free and   vegan,  it has made us design whole menus for them which are not lacking in any way. So when we have guests who have allergies they  are really pleased not to get the  Sludge Risotto, they get at many events.  Vegan ice cream made with coconut milk was a treat for one celiac vegan
In March we had a had a new client who was knowledgeable about Indian food her favourite was a Jalfrezi. I don't need much excuse to trial cook curries but Jalfrezi was one I had never cooked as its more of a UK version of Indian food I was really pleased to get it tasting just like a good Indian restaurant one
We make humus  a lot,  soaking and cooking  chick peas makes a difference  and I like to vary the texture,   not always sticking to the silky smooth,   adding  roasted cardamom,  roasted carrots  good Spanish hot paprika,   caramelised onions,  etc.  Since using our own grown wasabi rhizomes last year we have used the leaves a lot as a lovely spiced garnish as well as a colourful addition to wasabi mayonnaise Great food does cost more in time to prepare properly.
This year marinated butterflied  legs of English lamb has  become our annoyingly named  "signature dish"   We sear and cook and smoke over charcoal,  and wood shavings, we get a taste that cannot be obtained in a standard oven. It is  no longer a timing risk as we have learnt to cook this in all environments including torrential rain and sub zero temperatures. The flavour is fantastic and reflects the effort that goes in to it.   Below are two marinated  butterflied joints cooked  on one of our three charcoal BBques
In June we catered for a Pescatarian bride in a marquee at the top of a hill with gorgeous views over a valley but with no running water. We always tell our brides that it won't rain on their day and it hardly ever does however it did rain for 40 nights before, making the journey to the top of the hill impossible before the day. This created a few problems not insurmountable but a challenge. A smaller than expected catering tent and the need to continually lift  50 litre water tanks to fill our two hot water boilers nearly saw me off.  As canapes, we served made that morning scones, some plain, some with cheese and olives  with a variety of  toppings inspired by the Pescatarian  clients favourite things. Pickled pear and stilton ( our own pears ) Goats cheese and oven dried tomatoes,  Anchovies  with  roasted  red pepper  and basil, home  smoked mackerel with fresh horseradish crème, Broad bean and lemon pate with fresh asparagus tips.
This was our first appearance of Iman Bayildi which is a gorgeous vegan Middle Eastern dish.  Hollowed out aubergines are salted then pan fried then stuffed with cooked onions and chopped aubergine, paprika, pekemez (I use tamarind) brown sugar etc. it is then cooked till tender. This is a dish which benefits from a day in the fridge which is lucky as it took three of us all day to prepare 140 the day before.
In July we catered for a budget family wedding in their garden which was not huge,   40 guests were squeezed under a handful of gazebos and we served great food from a kitchen just big enough for the job.  We did it as an experiment to see if a small wedding was any less work than a huge one and discovered that it wasn't.  We enjoyed the experience but realised that smaller numbers are just as much work but the economies of scale make them difficult at our standard prices.
Mid July we catered for our first festival style wedding. The clients wanted a relaxed informal affair with straw bales, causal eating (and actually meant it)I made a festival stall 4.5 meters x 3 meters and bought a proper £300 gazebo which annoyingly on the day I forgot to bring the roof covering,   so we did not use it) Despite the bride being a vegetarian the husband to be was not, so we served and cooked Argentinian lamb:  two whole butterflied lambs on two  spits we had made at an angle over a wood fire pit. Visually it was extraordinary and the taste was fantastic with a smoky BBQ flavour.
so relaxed we had time to take photos
these spits will work for lots of different meats so long as they are not too dense, whole chickens, butterflied shoulders, whole venison perhaps, we are keen to trial anything
We also cooked 7 whole fillets of beef on the BBQ
as well as some plain chicken for children that wanted it. We prepared lots of Yotam Ottolenghi style salads in our stall and a galley kitchen. We served during a break in the bands to over 200 guests who found their own seats on bails or pallet benches made for the occasion. It was the lovely relaxed occasion that the clients wanted.
Also in July a celiac bride and food loving husband who was very specific about duck liver pate as part of the sharing platter.   Having not made pate for a while, I was aware of the issues surrounding cooking liver.  Pink is no longer considered safe.  However following a Raymond blanc recipe cooking them in a water bath with clarified butter port brandy etc. to a measurable temperature produced a really smooth and tasty (and safe!) pate, served with freshly made Gluten free flat breads (Like normal flat breads butt more difficult to cook)   I came across a new ingredient Aquafaba which is the cooking liquor from chick peas!
We provided seas bas en papilotte for a couple of Pescatarians and made a local borage and flax honey ice cream with honey combe which (another client request)  to accompany their Gluten free wedding cake. We cooked mainly outside as this good value venue (for smaller weddings who are not big drinkers) the Granary https://www.riverstourtrust.org/our-venues/the-granary/     which offers river trips down the river Stour   had a ludicrously small kitchen.
At the end of July we catered for a Vegetarian celebration in Waldringfield. This was a lovely occasion on a gorgeous summer day.  A completely vegetarian lunch was cooked freshly on site. The clients,  lifelong vegetarians wanted  to provide a really tasty lunch for  guests ranging from 4 – 90 that would not disappoint meat eaters  We served  roast radishes  as  canapés which are really different  way of having radishes  I made  flax crackers topped with roasted cardomen  humus  chargrilled Courgette roll ups with ricotta mint and basil. Charcoal Babaganoush on crostini. The mains included a watercress pistachio and orange blossom salad, chargrilled broccoli with lemon and flaked almonds and Haloumi ribboned courgette cherry tomatoes and marinated in lime juice mint and chilli. We tried a lovely recipe for whole broad beans in their pods unfortunately although picked on the day from willow tree farm shop in Glemsford  it was just a bit late in the season and they were a bit stringy. I will do that recipe again but at the very beginning of the broad bean season.  We served Fresh English Strawberries and cream from a new farm supplier we have worked for this season,  they are fantastic like a strawberry used to be!
On the last weekend in July we catered for a marquee wedding in the far north of Suffolk. We have travelled further this year than before as clients from all over Suffolk and further afield  are now finding us through the internet since we be rebranded as Catering for Suffolk. With inspirations from  the bride and her mother,  we came up with a new recipes including Asian cured salmon cured with Soy sauce (and Vodka).  Krachi marinated prawns with fresh wasabi
The sharing platter included a beautiful raw marinated beetroot salad with roasted yellow peppers and rippled yoghurt dressing.  Marinated aubergine with thyme and pomegranate and an unusual choice of Patatas bravas for  the main carbohydrate.  A  lovely wedding with lots of colourful guests and children. After we had finished cooking,  a young child had not made it to the toilet in time and his father asked if he could dry his childs pants on my BBQ,  despite my hygiene horror how could I say no,  needless to say that BBQ was cleaned many times before it was next used.
As we specialise in Authentic Asian Food we get a lot of enquiries for weddings but couples soon realise that it does not always appeal  to all the guests.  In August  at a new venue for us Haughley Park Barn www.haughleypark.co.uk  this  couple had the courage to go through with it and we cooked a full three course Indian meal  and some plain chicken with a lovely fresh basil sauce for  a few guests who did not do spice.
For canapes  we cooked vegetable Manchurian,
A  recipe shown to us (after weeks of pestering) by the cook at   Palm Cottage in Benaulim  Goa where we stayed in 1995.
Sesame prawn toast, Chicken Tikka   and Aloo Tikka (Indian potato cakes )
Poppadum's with home made pickles,
For mains chicken Adur inspired by their favourite dish from their local take away. Red lentil dahl , Goan fish curry and a sag paneer
I made my own paneer for the tasting but could not get it to stay together in the curry so I used a really good product from my specialist  chef supplier  infusions for chefs  http://wwwinfusions4 chefs.co.uk
Finishing with a fresh  mango and lime sorbet.
This menu was a challenge made even more difficult as the well supplying all the water for the venue was contaminated so we could not use it! Even for washing up things that were going to be used for eating from
September  was a gruelling month. We do not cater for more than one wedding a week as we put so much in to each one  and there is a chance we could drop our standards    but when we have large weddings back to back we work  seven days a week by the time we have cleared up from one,  its straight into the final planning for   the next.  The first was at  a new venue for us in Great Bardfield a beautiful barn with  a good kitchen and  its own vineyard and wine http://www.greatlodge.co.uk/wedding-and-event-venue.html  Erin and Pete wanted to use our Thai experience with Thai  fish cakes Thai green curry in shot glasses,   golden bags  and chicken satay  as well as a more traditional BBQ for main course with pulled pork ( a whole  neck end shoulder  bone in marinated and   cooked and smoked for 7 hours in our charcoal BBQ  )  along with Indian 12 spice marinated chicken,  salmon marinated in fennel and lime along with some lovely salads inspired by their favourite ingredients ( see kind words page)
The desert was  the grooms mothers recipe for lemon pudding  served with our own ice cream.
September wedding Alpheton Barn
Late in September we made teriyaki salmon as a canapé serving it with hot sauce served in a mini burner, a speck salad as a starter with buffalo mozzarella fresh figs  rocket, basil, pomegranate seeds and a honey balsamic and lemon juice dressing.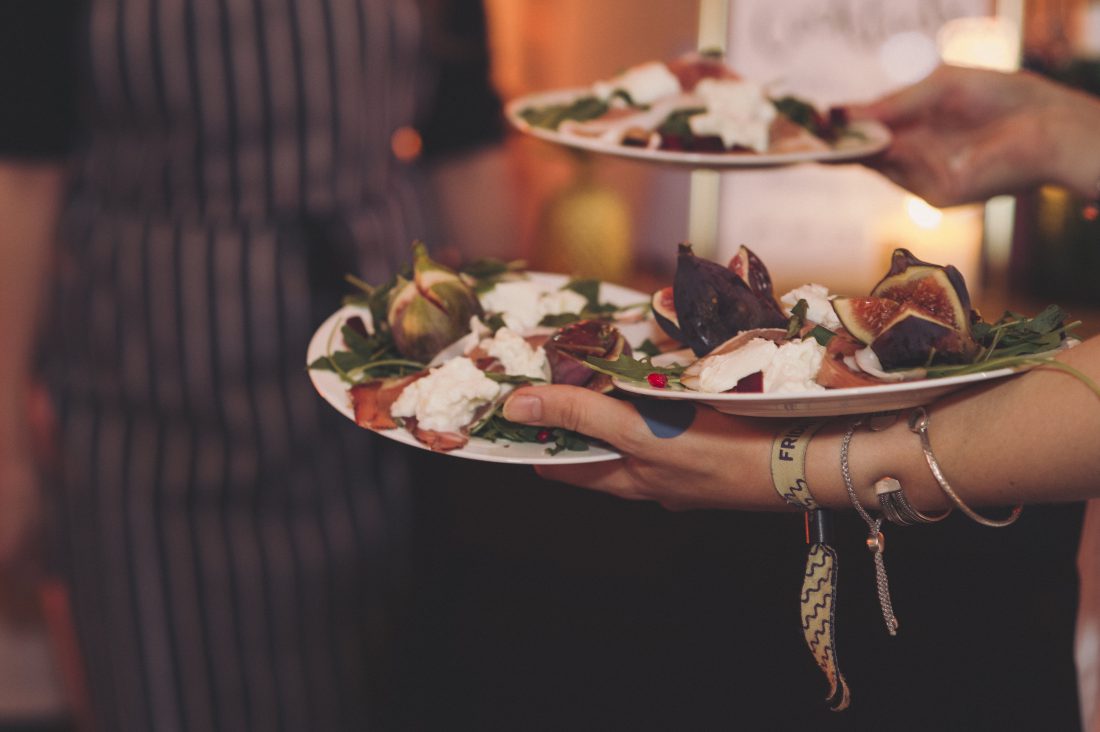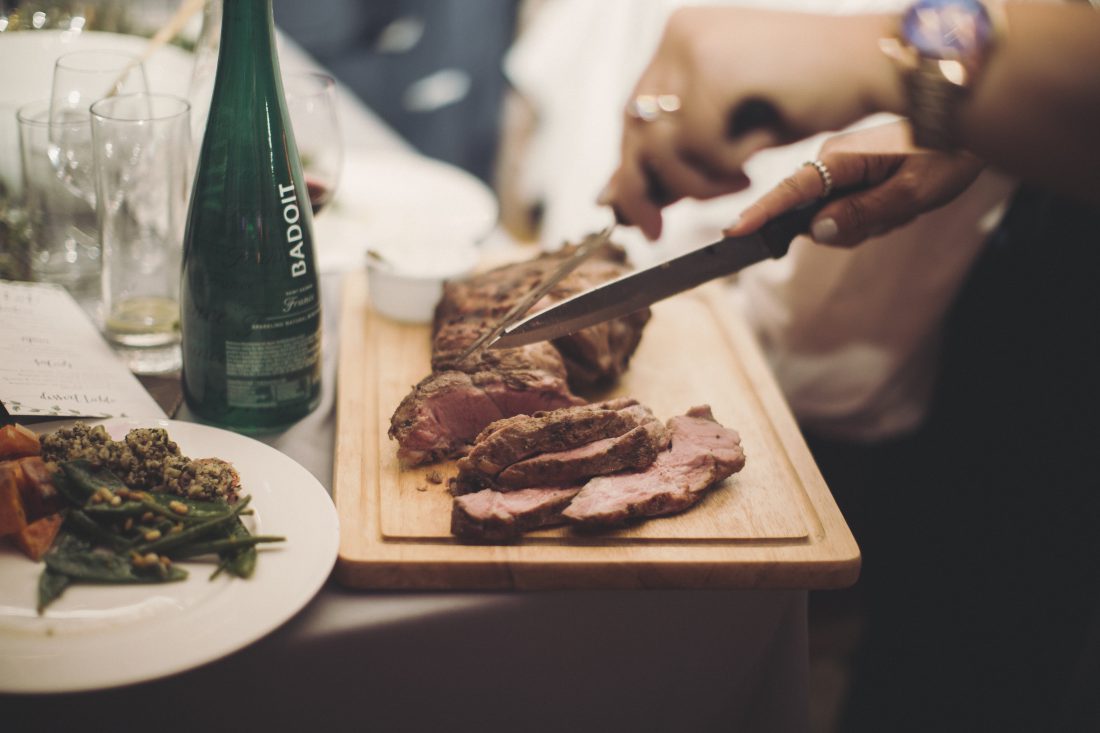 One of the many new experiences for us at this wedding was using a   wood fired Pizza oven that Nic Wilcox has built  for the evening food   www.Alphetonbarn.co.uk   it  cooks the best pizzas I have eaten,   using our own dough made from a mix of 00  and strong bread flour, our own pizza sauce  and using the best buffalo mozzarella available the results were fantastic.
See more detail on https://www.lilypebbles.co.uk/2016/11/the-wedding-food-drink.html      see our reviews page for lily and Richards comments.
October Triple hat Tipi Wedding
The following week,  an author and a paragliding wildlife mountaineer photographer / film maker. Who did everything themselves, so laid back! lying on a tipi floor sorting out the table plan the day before and forgetting to seat themselves!  They originally wanted Thai curries but eventually settled for Sheppard's pie, also massive foodies the challenge of making a really good Sheppard's pie in a tent started with making a really good lamb stock with two roasted whole lamb carcasses. Carrots in rosemary and honey and Spinach with garlic and nutmeg has become one of our favourite cool weather accompaniments.  We squeezed the Thai curry in, served  in a shot glass as canapes along with a request for sausage rolls made with red onion marmalade which were gorgeous.
Torte au st emillion for dessert followed by a lunch for the "oldies" in the triple hat Tipi the following day.  Another big weekend for us and really appreciated by the couple see our kind words page.
Cold weather October  wedding with wood burning stoves
The following week our second wedding of the year at the Tudor barn Milden    www.thehall-milden.co.uk/  two doctors returning from Canada inspired by Yotam Ottolenghi flavours had a lovely relaxed day by the wood burning stoves:  rocket pesto with fillet of beef was one of the canapes. We have ben experimenting a lot with Kale as it's so good for you and have found great ways to cook it so even our suspicious teenager enjoys it. Oven roasted or hard pan fried it comes out like Chinese sea weed. The recipe we used,  it is served raw after being marinated in lemon juice with addition of raw leek, really unusual
Roast beetroot with Quinoa was so colourful and with a rich earthy flavour.  Sweet potato with pecan and maple syrup sounds too sweet but was just gorgeous. Pear and almond upside down cake Gluten free and luxurious required us to buy another oven and after the gear box went on one of my ancient Kenwoods another mixer which is the second purchase after an ice cream maker I have made from Andrewjames   www.andrewjamesworldwide.com   whose product seem unfeasibly good value but I have had no problems with durability so far
Mid October   we catered for the fund raiser for Clare town lights at the town hall. We wanted something good value so the tickets would not be too expensive, We made 100 individual chicken pies  with a pastry base and lid ( it's not a pie without a base! it's a casserole with a disk on top)made with a  homemade stock with tarragon and lemon was really good . As it was the blackberry season we picked 4 litres of blackberries and used 5 different varieties of apples picked from our garden and the village Including some fantastic russets:  small really labour intensive but fantastically nutty  to make a simple but as good as it gets crumble.
As part of our wedding service we include wedding planning for the day and use our experience to advise clients who usually have not arranged something on such a large scale before. We have only worked with one wedding planner for  lily pebbels.   Stephanie at   revival rooms  http://www.revivalrooms.com  was great and mainly looked after the specific style requests from Lily Pebbles and I think we worked really well together.
Here are a couple of examples with prices for a wedding  to give you an example of some the dishes we have prepared in the past for events.                                                          Our average price for a  wedding breakfast  including staff,   linen napkins,  crockery,  glasses and all equipment is between £39 and 49 per head. We can offer similar food for less at a informal occasions: Weddings are just loads more work!
Below is an example of what we can do as price guide seasonality will mean it will not be available all of the year
Canapes
Chicken satay dipping sauce
Chicken thigh is marinated in Galangal, lemon grass, roasted, ground cumin and coriander, palm sugar, fish sauce, soy sauce.  Served with a sauce made of roasted unsalted peanuts, belacan paste (fermented shrimp paste) Thai chillies, shallots, coconut cream, palm sugar and tamarind
Home cured Gravadlax, fresh horseradish crème cornichon, rocket
Salmon cured in vodka freshly ground white pepper sea salt sugar and your choice of herbs: home grown fennel is lovely
Grated Fresh English horseradish with crème fresh or sour cream
Prawns in Krachi
Large raw  king prawns are marinated in Krachi (Thai wild ginger) fresh  coriander and  mint chill lemongrass, shallots,  garlic juice and zest of lime    these are then pan fried and served with a fresh homemade sweet spicy chilli dipping sauce ( its much easier to open a gloopy bottle of sweet chilli dipping sauce that is mainly cornflower and sugar)
Babaganoush on crostini
Aubergine is scorched   to soft over charcoal to give it a fantastic smoky flavour it is then strained  chopped and added to yoghurt garlic and lemon juice this is served on crostini's made that morning: ciabatta is brushed with olive oil  toasted and rubbed with garlic while hot
Sharing platters
Homemade humus
Dried chick peas are soaked overnight and then cooked till tender then mixed with tahini, lemon juice and garlic seasoning then we can add roasted carrot and roasted and ground cardamom seed or smoked paprika
Toscano salami
Marinated olives freshly marinated on the day in parley olive oil garlic and lemon juice
Marinated piquillo peppers freshly marinated on the day in a good sherry vinegar garlic and coriander
Parma ham
Chorizo Spanish as well as Lane Farm Suffolk chorizo
Served with freshly made flat breads or artisan breads from the friendly baker
Main course
Butterflied  english lamb is  marinated in a range of marinades Seared on the BBQ  and smoked over charcoal and wood shavings served rare to medium  in the middle,  medium at  the end,  well done on the very end slice.
Picked that day Local Sweetcorn blanched and carved from the cob in sheets served with roasted red pepper a hint of chilli and a cider vinegar and rape seed oil dressing (August and September only)
Asparagus and samphire with a sesame oil dressing   (May June only)
Pesto potatoes  Jersey royals or Cornish new are cooked then a homemade Pesto made with basil flat leaf parsley, pine nuts, parmesan ( we can use a vegetarian Italian hard cheese if required )  is added   and then served warm. We don't often add the soft boiled quails eggs in Yotams recipe  but can do for small numbers
7 bean salad (not from a tin!) Caramelised onions,  wilted spinach,  lemon juice and garlic.  This was a favourite of ours 5 years ago and despite trying to get away from it is loved by our clients
Herbed  cous cous,    cous cous is rubbed with a  paste made  of 6  fresh herbs finished with    caramelised onion toasted  pistachios and rocket
Tarte au citron: home made pate sable is used as  a soft casing for  a fresh lemon tart a great french dessert from the Roux brothers
Pear Tarte Tatin a recreation of my favourite dessert from  the  Canteen in chelsea harbour in the 90's
Table served whole pavlovas with in seasonal fruit ranging from early season Rhubarb in January to    October raspberries topped with either whipped cream or a homemade ice cream
Freshly burr ground on site coffee beans of your choice served in cafetieres (we do not use conference jugs)
These are just an example of what we have cooked in the past as a rough guide the menu is up to you
New experiences in 2015
Catering for Suffolk  are always trying to improve, diversify and keep abreast with current food developments, flavours and ideas. "It would be dull to keep repeating the same dishes" On regular research restaurant trips to London, Catering for suffolk have been able to experience authentic flavours from places such as Broadway market researching Bahn Mi sandwiches for a Vietnamese wedding. The fabulous Moro in Exmouth Market has inspired research into trialling tapas for a hen weekend in February. Also visiting up and coming Southern Indian restaurants outside the normal favourites in Southall. Even venturing into the new Peruvian Restaurants – not for the unadventurous – but stunningly different.
Since discovering Yotam Ottolenghi seven years ago Catering for Suffolk  have been inspired by his colourful and fantastic food, not something that can be thrown together with a moments notice, but bringing all the flavours, ingredients and colours of the Middle East and Mediterranean together and back to Suffolk. They have used his influences for a Syrian bride and a Lebanese inspired wedding, as well as incorporating them into more traditional wedding food e.g. accompanying barbeques with whole joints of marinated Lamb roasted on charcoal BBQs, then served whole to the tables to be carved.
Here are some examples of recent new dishes for us
(click each picture for the caption)
Pictures supplied courtesy of Tori Hancock
Smoking and barbecuing  marinated  legs of lamb  outside  in the snow  mid December  at  the Tudor barn at Milden.     Family served accompanied freshly cooked  dauphinoise  and   Peas with   caramelised  onions and chili,
Dessert was Caramel shortbread,  a childhood  holiday treat made by my mother,  with never quite enough chocolate on it.  When I made it for  the  tasting  to accompany homemade salted caramel ice cream   and raspberry coulis.   I used  7 mm of quality dark 80% cocoa chocolate to top it,   unfortunately it required far too much pressure to cut with a dessert fork!  so we settled at 4mm and it was better than my mothers.  Although not a standard dessert it was what the client wanted and it was fantastic!
Later we served hand cut thrice cooked Maris piper chips  in coconut palm cones as evening food. Far more time consuming than getting them out of the freezer, but  proper chips like you get from a really good fish and chip shop:  incomparable to fast food offerings.
The Tudor barn, our favourite wedding venue, is now concentrating on welcoming smaller wedding receptions so that 30 or so guests can stay over the weekend in their beautiful ancient Tudor barn with 30 friends and family.
Its rustic original charm attracts wedding couples and overnight guests who are interested in a wholesome, quality experience – which matches our philosophy on food perfectly!
Homemade Baklava, Florentines and café real served with a make your self-selection of fresh ginger  mint and lemon teas.
Ground on site Ethiopian Yirgachef coffee beans from our specialist roaster.
Wedding  Evening food with a choice of three curries served in small bowls.
Cooked on site fresh crab as part of a sea food platter with oysters home apple smoked  mackerel crevettes and freshly cooked prawns.
Crustacean free Thai curry for an allergy guest (surprisingly good without the shrimp paste with a little extra fish sauce).
Last year they trialled a Hangi which is a traditional Maori feast cooked underground!
Cold water pastry pies were been a great success last year: game and pork "the best pork pie I have ever eaten" a comment from a Croquet player at the annual tournament at Belchamp Hall.
Following a request for Pad Thai for 120 at a wedding at Bruisyard Hall Barn, Catering for Suffolk designed and had made a massive stir fry tray which can be used over commercial ovens, and their own burners or BBQ's. Even providing fantastic freshly prepared and cooked flat breads on site.
Sharing tables
In March 2013 a wedding involved a main course, table served banquet of stuffed crown of lamb, wild mushroom risotto, chicken and ham hock pie, wilted spinach, Maris piper mash and a selection of three different complete desserts for guests to help themselves. This shadowed a trend for informal sharing plates away from the more formal individually plate served service. The Lazy Susans that Catering for Suffolk own really lend themselves to this style of "shared eating experience".
Great Bread
Since the closure of Clare bakery Catering for Suffolk  are now using a great artisan baker in Rede (The Friendly Loaf Company) – Mark makes all his bread from scratch; slow proving, using local flours and ingredients where possible and will make exactly what clients wants. As is true with most of Catering for Suffolk suppliers, they are at the high end of the market but worth every penny.
"We are happy to provide bacon rolls for evening food, but would prefer to supply locally cured treacle and beer bacon, with a great roll from Mark, rather than watery Danish bacon in a cotton wool supermarket bap".
Curing their own gravadlax, smoking fish and meats, working with local growers to get picked that day sweetcorn/dug today beetroot. Making their own variations on Humus and Babaganoush are just examples of how keen they are to work with clients to push the boundaries beyond the normal offerings.
New venues where Catering for Suffolk  are now recommended caterers
Alpheton Barn
"Adventurous adaptable and professional, not to mention that their Thai food knocks spots off dedicated Indian and Thai caterers we have had visit" Nick Wilcox Barn owner
Preston Priory Barn
"Great food and really organised" Denise Luck barn owner